Our Team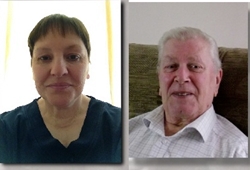 Helen Ball and Trevor Williams
(Research Partners UK )
United Kingdom
Trevor Williams and Helen Ball run Helvor Probate Research Ltd. a friendly probate research company based in the West Midlands
Helen and Trevor had been heir hunting informally for some time and decided to set up Helvor Probate Research Ltd. because of continued success and because of the appreciation shown by their clients.
They also have a Local Authority contract to trace missing relatives of people who die in a particular local authority area.
Helen and Trevor have been working closely within the HHA for several years now and appreciate being part of an Heir Hunting Community that seeks to uphold high professional standards within the industry.
Trevor Williams
Trevor has been tracing his family history for several years and already knew a lot about his family by talking to his grandmother when he was a teenager.

Trevor used to work in industry and ran an electrical contracting business. He has attended a number of genealogy courses over the years and is an active member of the Heir Hunters Association and a member of the Birmingham and Midland Society for genealogy and heraldry.

Trevor is married to Bridie and between them they have 7 children, 11 grandchildren and a great granddaughter

Helen Ball
Helen has been tracing her family history since the age of 10 years and has enjoyed making the most of the progress made in the field of genealogy in recent years. She regularly visits record offices and archives for research as well as making the most of the Internet.

She is a chartered member of the institute of Library and Information Professionals and enjoys breaking down those brick walls in family history by tracing small pieces of information from many sources and putting them all together to make one big picture.

Helen is also a member of the Federation of Probate and Asset Researchers, (FPAR), The Society of Genealogists and the Association of Professional Genealogists (APG).

Helen has also attended many family history courses over the years and is also an active member of the Heir Hunters Association.

Helen is married to Nick and they have 3 daughters who are all young adults.
« Back
Copyright © 2020 - HHA Research Org UK. All Rights Reserved